TopiVac Digital Hand Vacuum Assisted (NPWT) Wound Closure Therapy Device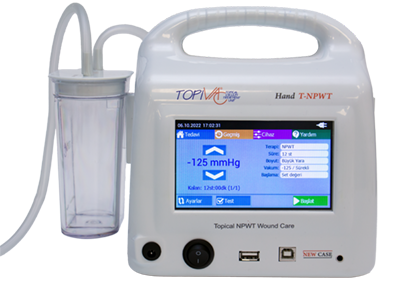 Conventional vacuum assisted therapy, standard negative pressure wound closure device and dressing; are an active system that applies controlled local negative pressure to support healing in noninvasive acute and chronic wounds. It increases the life quality of the patient and reduces the treatment costs. It heals wounds more quickly and effectively.
It is a non-invasive, developed wound treatment method that has proven itself in wound healing. This treatment unit is needed to apply controlled negative pressure (subatmospheric) to the wounded area.
TopiVac Digital Hand Chairside Classic Vacuum Assisted Wound Treatment Device has a wide variety of disposable consumable components to optimize treatment.
Specially produced for the device TopiVac MultiDRESS, it continuously pulls exudate from the wound through a special foam dressing set applied to the wounded area. It provides equal distribution of negative pressure to the wounded area. The wound is healed by creating granilization.
Negative pressure wound closure system accelerates tissue healing by increasing microcapillary circulation.