MultiDress Set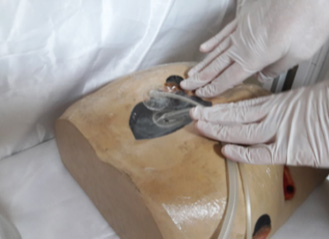 The wound closure sets for the TopiVac Medium - HYBRID Wound Treatment System, thanks to its patented design and technology, allow multiple treatments to be applied simultaneously to the wound.
It is also called MultiDRESS in order to emphasize the multi-functional usage feature. Thanks to its unique design, MultiDRESS is the first and only system that allows simultaneous application of irrigation fluids and / or therapy gases to the wound centre at sub-atmospheric pressure. According to the classic drapes, the exudates suction zone and the gas / irrigation zones are different from each other.
MultiCase + BiDistillated Water
MultiCase is a multi-functional system generator and irrigation cartridge specially designed and manufactured for TopiVac Medium Hybrid Wound Treatment System used in wound irrigation and moisturizing processes. With the help of its original design and advanced features of the system, it increases the effectiveness of the treatment by increasing the wound treatment options in the wound irrigation process.
MultiCase is a system specific to TopiVac, which is used in wound treatment by passing oxygen (O2) or ozone (O3) gas produced by the ozone generator in the system through the bidistillated water, which is kept sterile and used in wound irrigation process, by converting it to ozonized or oxygen- saturated water.
These options can be used depending on the treatment preferences of the physician, improving the efficiency of the irrigation process, facilitating infection control and accelerating the wound healing process.