TopiVac Medium Vacuum Assisted Wound Therapy Unit and MultiDRESS BiDistalled Water with Irrigation Wound Treatment Closure Sets are the first in the world, new treatment method and system developed by TEKNOMAR, designed to be used in the treatment of acute, chronic, bedsore, diabetic and burn wounds.
The TopiVac/MultiDRESS system is a new hybrid professional wound therapy system. Unlike classical NPWT;
It irrigates and moisturizes the wound centre at the same time under vacuum. Thanks to it, there is no need for silver etc. products. Performs with a minimum efficiency of up to 50% in the healing of 3rd and 4th degree burns and infected wounds. Also, it is a state-of-the-art technology product that saves the limb without amputation, improves the quality of life of the patient and increases the success of the treatment of the physician.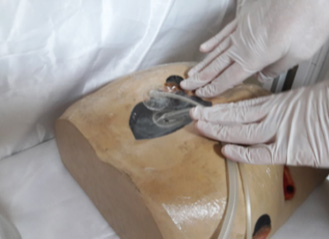 What is the Effectiveness and Difference of TopiVac/MultiDRESS from Other Vacuum Assisted Wound Care Products on the Market?
Removal of necrotic materials and dissolution of necrotic tissue due to homogeneous irrigating of the wound centre,
Providing tissue oxygenation and disinfection, preventing infection
Useable in infected wound
It is more effective than other wound care products with its features and effectiveness.
Unlike conventional treatments and processes that take months, the wound becomes grafted in a much shorter time and the patient is entrusted to the physician.
UNNECESSARY BED OCCUPATION IS PREVENTED.