TopiVac is classic vacuum assisted wound therapy system, wound closure dressing set. It is in the SUT list. It is a state-of-the-art technology product that improves the quality of life of the patient and increases the success of the treatment of the physician.
Which treatment is it used?
● It is used in wound treatments for rapid wound healing in diabetic foot wound, bedsore, chronic wound, non-healing wound, burn wound, ınfected wounds etc.
● Active closure method / topical negative pressure / vacuum assisted closure / vacuum-assisted / npwt / closure vac: It is one of the methods used in open wound healing.
● Operates under vacuum of -75 mmHg, -100 mmHg, -125 mmHg.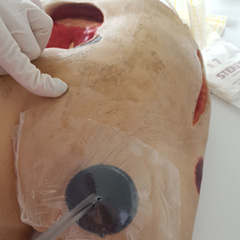 ● It draws exudate from the wound centre. It increases granulation. It accelerates wound healing.
● It is not recommended to use on infected wounds without cleaning the wounds. It should be used after cleaning the wound.
● It has high healing efficiency by providing granulation in the wound.
TopiVac Digital Hand Vacuum Assisted Wound Treatment Device and Classic Wound Closure Dressing Set;
It draws exudate from the wound centre. Increases Granulation. It accelerates wound healing.
It is not recommended to be used on infected wounds (It is recommended to use more technological Topical and Oxygen Irrigation systems for infected wounds).
It is more effective, economical and efficient than wound care products used in the market with its features and efficiency.
The wound is in a form to be grafted and the patient is entrusted to the physician.